During pre-planning week this year I led a session with the faculty at my school titled, A Foot in Both Worlds. The goal of the session was to help teachers begin to understand the new reality we would be facing at our school.
From what I have been reading online, there is a mix of what school boards and schools are doing depending on where you live and which board you are a part of. Some schools are only offering online programs, some schools are only offering in person programs, some schools have adopted a hybrid model (some days in school, some days online) and some, like my school, are offering a blended version, or HyFlex option, where teachers are expected to teach students both in school and online, at the same time.
This isn't an easy task. And the first week of school proved just how challenging it would be.
First, let me share some of the new policies put in place to help make our school as safe as possible:
All students K-8 must wear masks at all times inside the school building (we've implemented this for the first two weeks as students come back from summer holiday. After that period (as of right now), it will be mandatory for grades 4-8 and optional for k -3) All teachers must wear masks at all times.
Students' entry and exit from the building is staggered to eliminate cohorts mixing with others they never see throughout the day and limit contact. They must maintain physical distance while they line up and sanitize their hands when entering the building.
Students will be eating with their classmates in their classroom.
Recesses are staggered, with only 2 or 3 cohorts outside at the same time.
Students in grades 4-8 will have outdoor education (rain/snow or shine) and students in K-3 have an extended recess time added into their schedule to make up for the lack of P.E.
Art is taught asynchronously by the art teacher, with students working in their classrooms supervised by their teacher
There is no Music class this year.
As you can see from this list, many precautions have been put in place to help our students and faculty stay as safe as possible. However, it does add extra supervisory duties to the schedule that were not previously there. Our administrators worked exceptionally hard to work out this impossible jigsaw puzzle and have taken on over 20 duties themselves, but it was impossible not to increase the number of duties each teacher needed to take on.
In order to facilitate HyFlex learning, teachers share their calendars at the start of each week on our class blogs. These schedules are very similar to what we had been using in the spring when our building was closed and we were learning from home.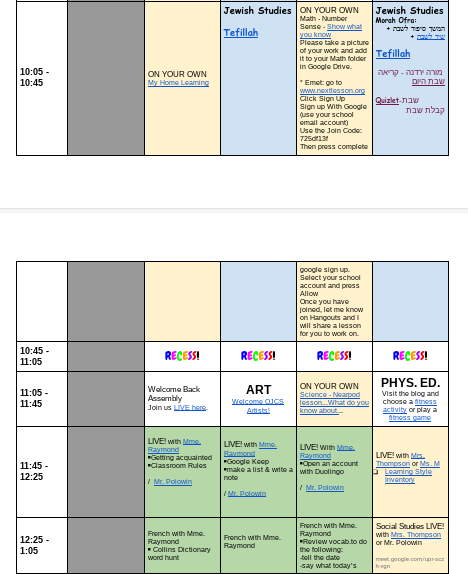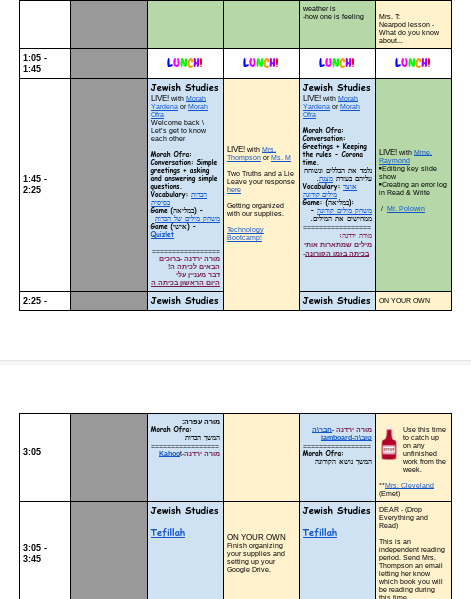 What did I learn in week 1?
For the most part, my student who is learning from home full time was engaged in the class and participating well. He is an extremely self-motivated learner though. I had two students home sick halfway through the week. One was well enough to continue learning online, but had more difficulty following along and staying on task.
I like that parents and students can see quickly at the top of the schedule which documents they need to print for the week. However the schedule itself felt busy and hard to follow. In week 2 we will be trying to keep the schedule less cluttered and each teacher will link to a more detailed plan. Here's the one I have created, inspired by my colleague Faye Mellenthin.
We are trying to include as many asynchronous/student-paced lessons into our synchronous teaching periods. The hope is that this will reduce the amount of planning we need to do as teachers for both students at home and in school. It will also free up more time to meet individually with students, something we weren't able to do as much of in the first week, especially for students learning from home.
Something else I'd like to do but did not manage to implement in the first week is class jobs. Last year I read Who Owns the Learning by Alan November, and blogged about it here. Inspired by his Digital Learning Farm a session with Sharon Reichstein, some of the jobs I'd like to implement that will help build community are:

Recess buddy (plays online with those who are at home)
Morning Activity leader
Chat monitor
Researcher
Documenter
In the past, students would move from one classroom to another for their various classes with different teachers. This year, students stay put in their classrooms and the teachers are the ones who move in and out. Another idea I had that I would like to try once I run it by my colleagues, is to have a set iPad in each classroom. There would be one Google Meet link that students would stay in for the whole day, and teachers would have the student there on the iPad when they came into the room, rather than having different links for different teachers. From the feedback from our teachers, especially those who move around a lot (our French teachers can teach up to 5 different classes) it's not easy to pack up one room, run to the next, set up your supplies, and login to the Meet. It's not impossible obviously, but my goal is to come up with ideas, protocols, and templates to make life as easy as possible for teachers. When you consider all the "newness" our teachers have had to take on this year, including extra duties, the more we can do to support them, the better.
Here's to week number 2!